---
Full-automatic nucleic acid extraction instrument
Brand name:Thmorgan Model:MM24
---
Product use
1. It is applicable to the extraction of various DNA/RNA viruses such as COVID-19 COVID-19, HBV, HPV, HIV, Ebola virus, etc;
2. It is applicable to the extraction of viral DNA/RNA from human blood, urine, secretion and other cell-free body fluids;
3. It is applicable to the extraction of DNA/RNA from human hair, body fluid, blood, muscle and other samples;
4. It is applicable to the extraction of DNA/RNA from whole blood, white membrane layer of blood, body fluid, lymphocytes and cultured cells;
5. It is applicable to the extraction of DNA/RNA from animal tissues, plant tissues and microorganisms.
Product features
1. Turntable design, magnetic bead extraction;
2. Fast, nucleic acid extraction process can be completed within 30 minutes;
3. High degree of automation, built-in multiple programs, which can be accessed directly;
4. Good parallelism, CV less than 1%;
5. The purity of nucleic acid is high, and the recovery rate of magnetic beads is more than 99%;
6. Graphical operation interface, intelligent guided operation, simple and easy to use.
Product principle:
This instrument cleaves the cell tissue sample through the lysate, and the nucleic acid molecules dissociated from the sample are specifically adsorbed on the surface of magnetic particles, while impurities such as protein are not adsorbed and remain in the solution. Magnetic beads carrying nucleic acid are adsorbed by magnetic rods and moved to different reagent tanks. Through repeated rapid stirring, mixing the liquid, and through cell lysis, nucleic acid adsorption, washing and elution, pure nucleic acid is finally obtained.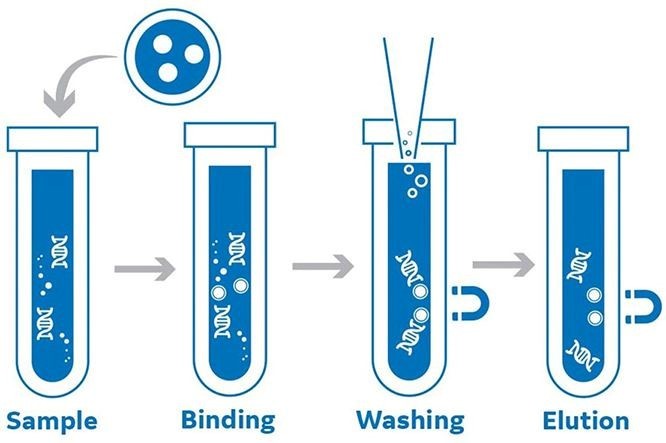 Technical parameters:
1. Number of channels: 24;
2. Sample volume: 30-1000ul;
3. Recovery rate of magnetic beads:≥99%;
4. Difference between purification holes: CV≤1%;
5. Nucleic acid extraction time: 15-50min;
6.Heating temperature range: room temperature-110℃;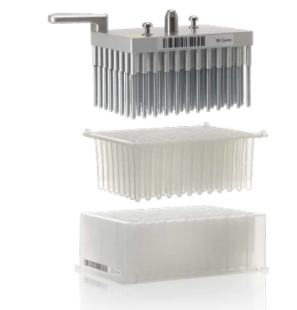 7. Temperature control accuracy: ±0.1℃;
8. Vibration mixing mode: adjustable;
9. Operating noise:<60db;
10. Built-in ultraviolet sterilization lamp;
11. Interface type: USB;
12. Display interface: touch type graphical user interface;
13. Data storage:>100 groups of programs;
14. Power supply: 220-240V AC, 50/60Hz;
15. Appearance volume: 725mm×810mm×460mm;
16. Weight: 45KG.
Product configuration
1. One host;
2. One data cable;
3. One set of attached accessories.
Full-automatic nucleic acid extraction instrument